Sorrel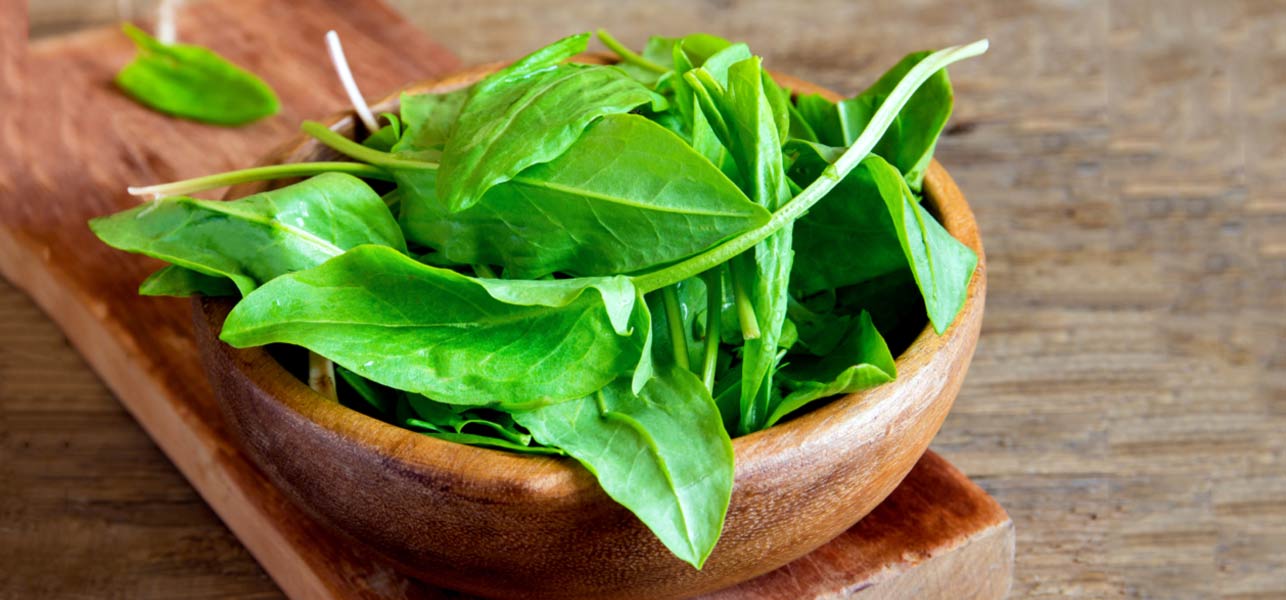 Aids in Digestion
The high content of dietary fiber that can be found in most varieties of sorrel means that your digestive health can be improved by adding these leaves to your soups and salads. [5] Dietary fiber adds bulk to food as it moves through the digestive system, improving your gastrointestinal health and reducing conditions like constipation, diarrhea, bloating, and cramping, as well as other gastrointestinal issues. Dietary fiber can also help reduce total cholesterol in the body, thereby protecting heart health, and reducing chances of atherosclerosis, heart attacks, and strokes.
Regulates Blood Pressure
Sorrel has a very significant level of potassium (1 cup contains 15% of your daily recommended intake), which is an essential mineral for human health. [6] Potassium is a vasodilator, hence is instrumental in maintaining fluid balance throughout the body. This means that it reduces stress on the cardiovascular system by relaxing the blood vessels and arteries. Lowered blood pressure reduces the chances of dangerous blood clotting and excessive strain on the heart that can lead to coronary heart disease and other complications.
Prevents Cancer
Although the studies looking into the antioxidant components of sorrel are still ongoing, there is enough evidence that it contains polyphenolic compounds, flavonoids, and anthocyanins, all of which function as antioxidants in the human body. The antioxidants in sorrel are effective at seeking out free radicals in the body and neutralizing them before they can cause healthy cells to mutate into cancerous cells. Antioxidants have a wide range of effects on the body, but cancer prevention is their most high-profile benefit.
Improves Eyesight
Vitamin A, another essential vitamin found in sorrel, has been closely connected to the improvement in eyesight and a reduction of macular degeneration and cataracts. [7] Beta-carotene, which is a derivative of vitamin A, acts as an antioxidant, and when combined with the other important antioxidant compounds in the body, it can greatly boost eye health and prevent age-related degradation.
Circulation and Energy
The significant levels of iron in sorrel boost the red blood cell production and prevent anemia (iron deficiency). [6] Increased circulation boosts oxygen levels throughout the body in the vital organs, boosts hair growth, increases energy levels, and speeds up the healing process (in conjunction with the protein content of sorrel).
Boosts Immunity
The vitamin C content in sorrel is impressive (a single cup of sorrel contains 106% of your daily recommended intake), which means that your immune system can be optimized. [8] Vitamin C, also known as ascorbic acid, stimulates the immune system and increases the white blood cell count in the body. White blood cells are the first line of defense against pathogens and other foreign invaders in the body. Vitamin C also helps to reduce swelling, prevent scurvy, and even has analgesic (pain-relief) properties when consumed in high quantities.