Spirulina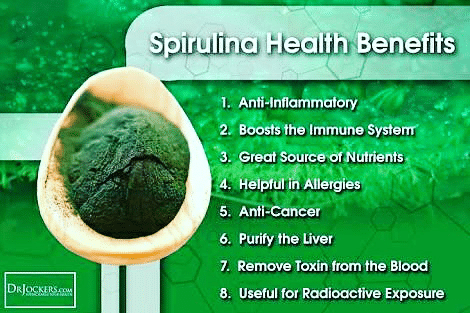 Protects "Bad" LDL Cholesterol From Oxidation
Fatty structures in your body are susceptible to oxidative damage.This is known as lipid peroxidation, a key driver of many serious diseases.For example, one of the key steps in the development of heart disease is the oxidation of "bad" LDL cholesterol.Interestingly, the antioxidants in spirulina appear to be particularly effective at reducing lipid peroxidation in both humans and animals. In a study in 37 people with type 2 diabetes, 8 grams of spirulina per day significantly reduced markers of oxidative damage. It also increased levels of antioxidant enzymes in the blood
5. May Have Anti-Cancer Properties
Some evidence suggests that spirulina has anti-cancer properties.Research in animals indicates that it can reduce cancer occurrence and tumor size. Spirulina's effects on oral cancer — or cancer of the mouth — have been particularly well studied.One study examined 87 people from India with precancerous lesions — called oral submucous fibrosis (OSMF) — in the mouth.Among those who took 1 gram of spirulina per day for one year, 45% saw their lesions disappear — compared to only 7% in the control group.When these people stopped taking spirulina, almost half of them redeveloped lesions in the following year.In another study of 40 individuals with OSMF lesions, 1 gram of spirulina per day led to greater improvement in OSMF symptoms than the drug Pentoxyfilline
May Reduce Blood Pressure
High blood pressure is a main driver of many serious diseases, including heart attacks, strokes and chronic kidney disease. While 1 gram of spirulina is ineffective, a dose of 4.5 grams per day has been shown to reduce blood pressure in individuals with normal levels .This reduction is thought to be driven by an increased production of nitric oxide, a signaling molecule that helps your blood vessels relax and dilate
Improves Symptoms of Allergic Rhinitis
Allergic rhinitis is characterized by inflammation in your nasal passageways.It is triggered by environmental allergens, such as pollen, animal hair or even wheat dust.Spirulina is a popular alternative treatment for symptoms of allergic rhinitis, and there is evidence that it can be effective.In one study in 127 people with allergic rhinitis, 2 grams per day dramatically reduced symptoms like nasal discharge, sneezing, nasal congestion and itching.